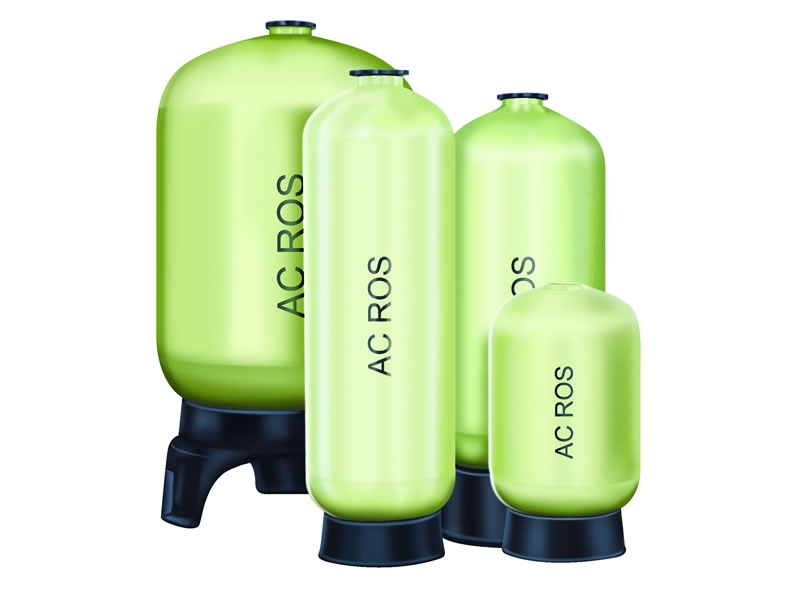 Click to Enlarge
FRP PRESSURE TUBE
FRP Vessels:
AC ROS water treatment vessels with FRP liner offer a solution for the applications require for corrosion resistant. The vessels broadly apply to treatment and storage of commercial and industrial water. Due to the unique features of FRP, the vessels have perfect corrosion resistant performance.
Features:
Pressure tank are made of high performance composite materials with FRP filament winding. All pressure tanks are 100% corrosion resistant.
All thread inlet made from 30% glass filled PP provides higher strength, temperature and pressure limits versus glass filled PE.
Full line of pressure tanks from 6" to 63"in diameter and from 10 "to 86"in height.
Specification:
MOC - Inner shell materials FRP
Operating pressure - 150 PSI
Operating Temperature - 49 C
SS Vessels:
Aquaa Care is engaged in offering different types of Stainless Steel Vessel, which are extremely durable. We are using superior quality of stainless. The vessels are resistant to corrosion. These vessels are offered to the clients with or without internal linings. Our range of vessels can be used in filters, softeners and activated carbon units.

Specification:
| Model | Opening | Volume |
| --- | --- | --- |
| AC-6x35 | 2.5 inches Top | 16    Ltrs |
| AC-7x35 | 2.5 inches Top | 21.5 Ltrs |
| AC-8x33 | 2.5 inches Top | 27     Ltrs |
| AC-8x44 | 2.5 inches Top | 37.5 Ltrs |
| AC-10x40 | 2.5 inches Top | 46.5 Ltrs |
| AC-10x45 | 2.5 inches Top | 55.5 Ltrs |
| AC-12x40 | 2.5 inches Top | 71 Ltrs |
| AC-12x50 | 2.5 inches Top | 82 Ltrs |
| AC-13x56 | 2.5 inches Top | 110 Ltrs |
| AC-15x58 | 2.5 inches Top | 171 Ltrs |
| AC-17x58 | 2.5 inches Top | 220 Ltrs |
| AC-20x58 | 4.0 inches TOP | 315 Ltrs |
| AC-22x58 | 4.0 inches TOP | 375 Ltrs |
| AC-24x58 | 4.0 inches TOP | 448 Ltrs |
| AC-28x58 | 4.0 inches TOP | 600 Ltrs |
| AC-30x58 | 4.0 inches  T & B | 672 Ltrs |
| AC-32x58 | 4.0 inches  T & B | 739 Ltrs |
| AC-34x58 | 4.0 inches  T & B | 814 Ltrs |
| AC-36x58 | 4.0 inches T & B | 926 Ltrs |
| AC-36x72 | 4.0 inches T & B | 1150 Ltrs |